Imaja Bliss Paint 2

Innovative Live Performance
and Video Animation System
for Mac OS 9
Bliss Paint: Sample Image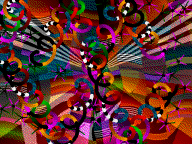 Bliss Forever #2 from Bliss Saver

This is a sample image from the Bliss line of animation software.

Bliss Paintings are animated paintings that evolve over time through many shapes and colors, composed as visual music. Colors mesmerizingly flow through the shapes of the animations. The timing of the painting events can be controlled by the composer of the animation. The colors of the paintings include very smooth blends that are not represented here in these dithered (speckled) miniatures.

While a still image of a Bliss Painting may be 250-300K, the animated versions are only 2-6K because the paintings are dynamically synthesized by the Bliss Paint or Bliss Saver software.

The paintings are also interactive. Using the keyboard, a MIDI instrument, or sound input, the viewer can control the color synthesis in many engaging ways.
Related Products
All images Copyright (C) 1994-2003 Greg Jalbert. All rights reserved.