Animation Plug-Ins for Bliss Paint and Bliss Saver
Features | Images | Related Products | Order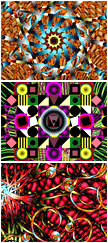 Waves of Bliss (TM) turbocharges your Bliss Paint or Bliss Saver application. Its many new scribblers, distributors, and paintings gives you a whole new set of tools to create dynamic Bliss animations. Many of the new plug-ins are specifically designed for music interaction, either through MIDI or sound input. Bliss has also been getting attention because it does what no other applicaton does: generate real-time interactive animations of such amazing variety and complexity.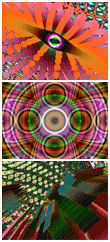 Waves of Bliss is not a stand-alone product, but a set of plug-in modules for the Bliss Paint and Bliss Saver applications, also from Imaja. Bliss Paint is a powerful tool for multimedia and video production, texture and background generation, interactive performances with music, logo animation, image processing, fine arts, and more. Bliss Saver is the screen saver engine which displays color animations and allows users to interact with the color synthesizer. Bliss Saver screen saver animations can be easily created with Bliss Paint.
Waves of Bliss provides over 50 new scribblers and distributors, and over 70 new animations, for use with Bliss Paint or Bliss Saver. Many of the new scribblers and distributors were designed to be used in live-performance situations. A performer using Waves of Bliss as part of their Bliss set-up can generate incredible dynamic animations on a video screen in real time--everything from rapid-fire percussion hits to spacy 3-D effects. The plug-ins found in Waves of Bliss can be triggered with the Macintosh sound input, with MIDI devices, or with the Macintosh keyboard.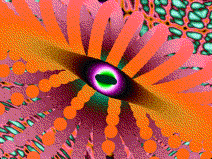 At the heart of the Bliss family of products is the innovative color synthesizer. With it, users can create endless color effects such as blends, stripes, fades, pastels, deep tones, and neons. The color synthesizer can be controlled from the event sequencer in Bliss Paint, the Macintosh keyboard, MIDI music instruments, or with standard Macintosh sound input. Every alphabetic key corresponds to a color, while other keys control color waveforms, ranges, and speeds. Various color ranges and animation effects can also be mapped to MIDI devices.
Animated paintings can be recorded as QuickTime movies for use in other multimedia and video productions, and can be recorded directly to videotape with AV model Macintoshes.
The dynamic Bliss paintings can be frozen at any moment and saved as PICT files for use in other applications. PICT files may also be loaded into Bliss Paint for further animations.
Waves of Bliss includes an on-line hypertext manual with Find and Find Next commands for fast topic searches. Imaja provides free technical support.
Create PICT files for other programs
Use for multimedia backgrounds, texture mapping, and more
Animations can be edited with Bliss Paint, the companion
Requires Bliss Saver 2.0 or Bliss Paint 1.0 for viewing
Requires any color Macintosh
Mac OS 9, Mac OS 8, System 7. Includes 68K and Power Mac native plug-ins
Requires 256-color (8-bit) monitor for color animation
Uses less than 800K of disk space
Order online now!
Waves of Bliss (e-mail delivery): $49.95
Waves of Bliss update (e-mail delivery): $20.00
Waves of Bliss (CD-ROM delivery): $59.95
Bliss Saver, Bliss Paint, Bliss Gallery, Waves of Bliss, and Geometric Bliss are trademarks of Imaja. Macintosh is a trademark of Apple Computer Inc.