Imaja Bliss Paint 2

Innovative Live Performance
and Video Animation System
for Mac OS 9
Related Products: Plug-ins and Animations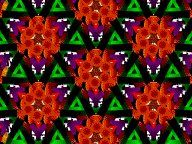 Additional plug-ins and animations available for Bliss Paint include:
These plug-ins are available separately or in the Bliss Bundle.
Upgrade to the Bliss Bundle
Special offers are available on the Bliss Bundle and upgrading from Bliss Paint to the Bliss Bundle. The Bliss Bundle includes Bliss Paint and all of the additional plug-ins and animations described above, on one CD-ROM. Click here for more information.
Astral Blossom™ is a visually mesmerizing screen saver for Mac OS X available from Imaja, taking you on a journey through a lotus-like kaleidoscope. Beautiful color themes may now be selected by the user from tranquil earth tones to bright and vibrant visual elixirs.
[More info...]

PicScan 2.0: interactive slideshow and thumbnail image browser for Mac OS X and Mac OS 9. Powerful keyboard commands let you control the slideshow dynamically, making this a useful tool for VJ's and presenters.
[More info...]

Jalbert's Rainwater is a vivid and entrancing art and music experience on CD-ROM. Hundreds of images dissolve slowly in random order over a spacious texture soundscape of electronic music.
[More info...]