Imaja Bliss Paint 2

Innovative Live Performance
and Video Animation System
for Mac OS 9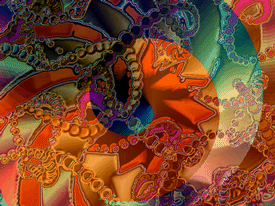 Bliss Paint includes many interactive tools for dazzling video projection for live music, dance and theater, including sound and MIDI input. Complex sequences of image synthesis events can be triggered on the fly, including shapes, colors, image processing, video and image input.
Bliss Paint can export animations into Apple's QuickTime digital video format for use in other video authoring systems such as Adobe Premiere and Adobe AfterEffects. Bliss Paint's mesmerizing patterns work well as eye-catching backgrounds and spots. To see more Bliss Paint animations as QuickTime movies, click here.

Bliss Paint can take live video input and process it through the color synthesizer for stunning effects.