PicScan 2: interactive slideshow and thumbnail photo/image browser for Mac OS X/9
Features
Slideshow Features
Full-screen or window slideshows
Choose image order dynamically with Thumbnails view
Change transition rate dynamically during slideshow
Change overlap between slides (a beautiful transparency effect)
Supports lower resolutions for slower computers
Support for two monitors for live presentation
Auto-Titles based on filename
Fade to black
Pause/Play
Thumbnail features
Change thumbnail size
Filenames can be displayed or hidden
Choose gray frame background or white background
Supports many graphics file formats: PICT, JPG, TIFF, GIF, Quicktime movies and many others, including video and audio formats supported by the currently installed Quicktime.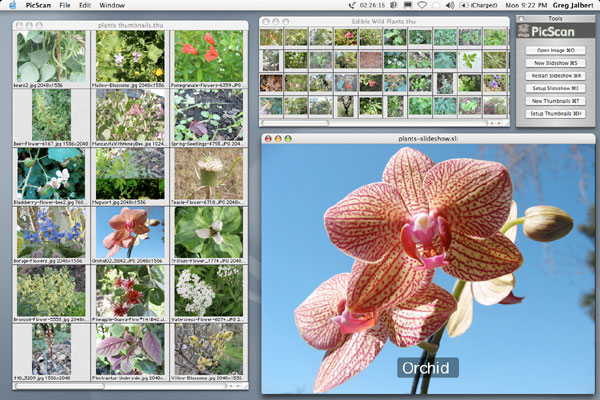 Thumbnail and slideshow documents can be saved for later retrieval.
A toolbar gives easy access to key command and keyboard shortcuts.
Many parameters have keyboard shortcuts for power-users.
Slide order can be changed during the slideshow via a thumbnails window, useful for live presentations where priorities can change at a moment's notice. Many Mac PowerBooks and desktop models support two monitors where one monitor is used as video output for projection or recording. The main monitor is used by PicScan to display a thumbnail browser/controller for the slideshow.
Standard Apple Help manual provided (Command ?). Download the PicScan demo version and try it out!

PicScan is Mac OS X Universal, 10.2.x, 10.3.x, 10.4.x, Mac OS 9, Mac OS 8 and System 7 compatible. Quicktime recommended.