"It is quite beautiful and interesting, especially with all the various options available. Astral Blossom is one of the most aesthetic and satisfying screensavers I have ever used. It is an instant favorite, and well worth the price I paid. Thanks once again for your attentive service and for offering this lovely creation." — R.J.R.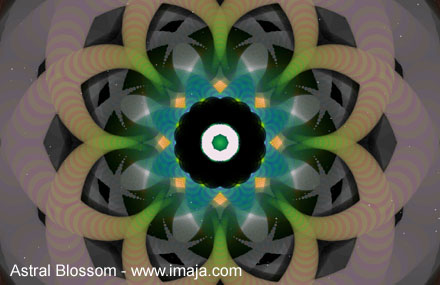 5 Stars — "Stunning kaleidoscopic imagery - mesmerizing! Astral Blossom fills your screen with constantly renewing images of geometric shapes resembling abstract flower forms. This is the most saturated and rich screen savers I've seen - it literally fills the screen from corner to corner with visual goodness. Not a whole lot of options to choose from, but it does what it does very well." — dznr
"Gorgeous! If you like color and symmetry and mesmerizing motion, dig in, 'cause this is a true spectacle! Still enjoying it after nearly a year of daily use... I actually still bother to watch it, which is NOT true of any other screensavers I've had around that long!" — D.C.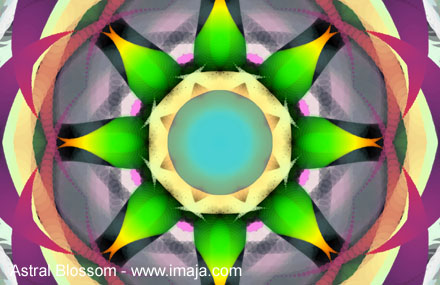 "...if it's your eyes that crave nourishment, let me turn you on to what is easily the most gorgeous, inventive and psychedelic screen saver on the planet. It's "Astral Blossom"– www.imaja.com and from where I'm sitting (literally, right this minute) it delivers the most fun you can have (legally) for under $10. The brilliant colors morph sensuously through what appear to be layers and layers of colored mandalas and kaleidoscopic spirals. You can set a whole bunch of options and frankly it's quicker than Buddhist meditation in terms of curing stress, and it's cheaper than psycho-therapy in terms of getting to the root of your early childhood traumas. Wonderful, luscious eye-candy—no-brainer downloading and delicious visual recreation. At least check out the demo and see if it doesn't hook you. Obviously, it did me..." — Christina Waters, Santa Cruz, Good Times
"Thank you so much for your kindness & honesty! I can tell from Astral Blossom, that you have spent time meditating & implementing 'higher consciousness'! To be able to transfer this level of understanding to computer graphics is a real gift to the Mac community! I really enjoy putting on headphones, listening to John Hall's Sonic Mood, while watching your intense meditative visuals on Astral Blossom! I look forward to any and all future developments, that you are able to produce for OS X! Thank you again, for the development of such amazing software! I have your URL bookmarked, so I will check it out at least once a month for future developments! Best regards and I wish you success in your future endeavors!" — your fan, J.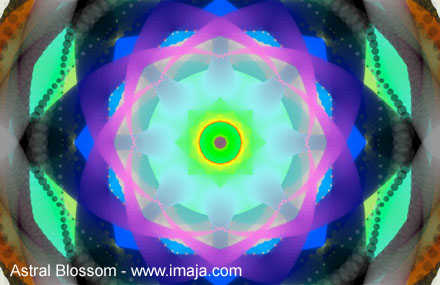 "Jeez, tastes are NOT disputable, as is proven every day. But the previous reviewers who didn't appreciate this great saver remind me of that old phrase about pearls before swine... So, what's a screen saver for anyway, these days? Well, for me, it's eye candy, pure and simple and what I want is something that's even slightly entertaining, and not actually repellant after a few days. OK, I'm a painter and digital artist, and I like kaleidoscopes, and I'm over 45, so maybe this is simply designed for me... but if you can relate, Astral Blossom is a total, 5-star knock-out! After nearly a year of enjoying it, I STILL find it a first-class productivity killer and inspiration device. Hats off to the developer for discovering one of the fundamental algorithms of visual joy..." — D.C.
"I love the Astral Blossom screen saver, Thanks!!!" — L.
"I really enjoy the patterns generated, they are quite hypnotic & relaxing, thanks for developing such an enthralling Screen Saver!" — J.
"Cool, I'm glad that you're doing stuff for Mac OS X!" — C.
"It's beautiful - one of the nicest things on Mac OS X for sure." — M.
"It's a very beautiful product. Thank you!" — P.A.