Speak News:
How to import Feedly OPML into Speak News

Open this page in Speak News for speaking > (iPhone or iPad)
Speak News lets you listen and read RSS news feeds. Now you can import your Feedly OPML file into Speak News to expand your bookmark library.
Start by logging into your Feedly account in Safari on the iPhone or iPad.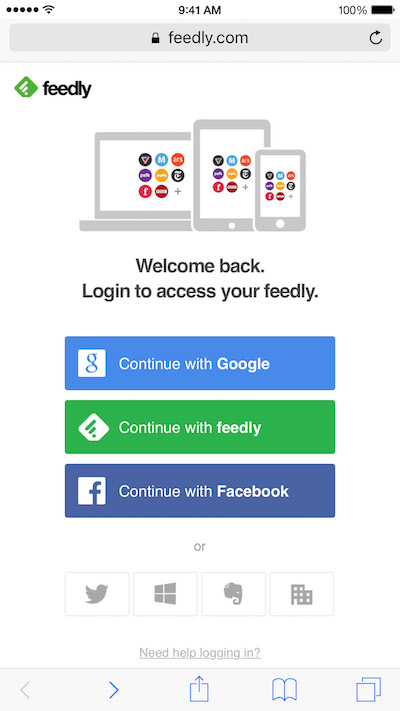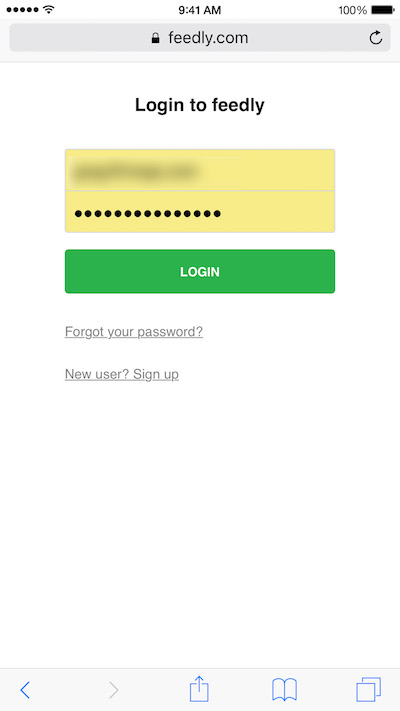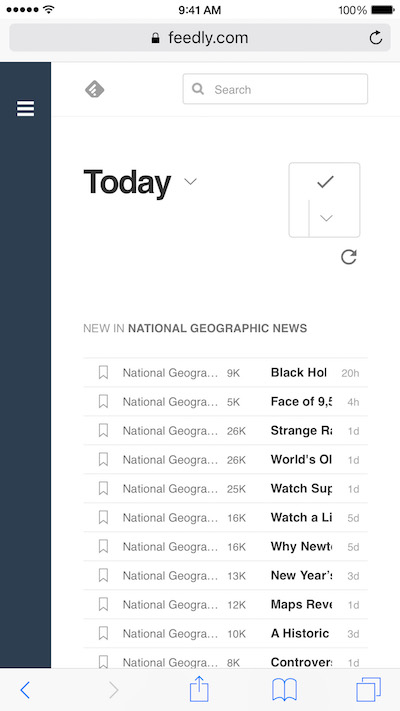 Open http://feedly.com/i/opml in your web browser. Tap the "DOWNLOAD YOUR FEEDLY OPML" button.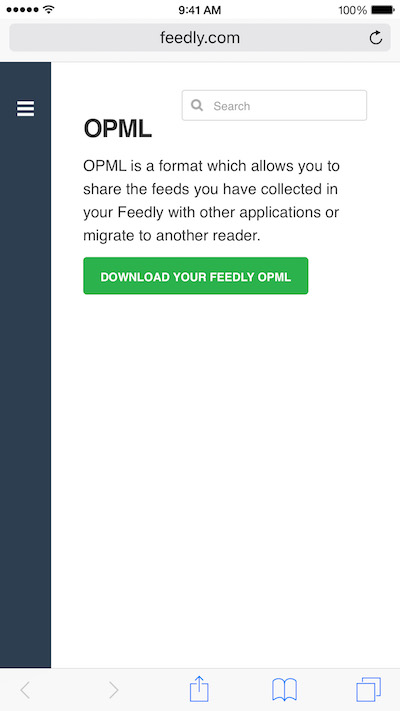 Copy the link of the page that appears from the URL box at the top of the web page.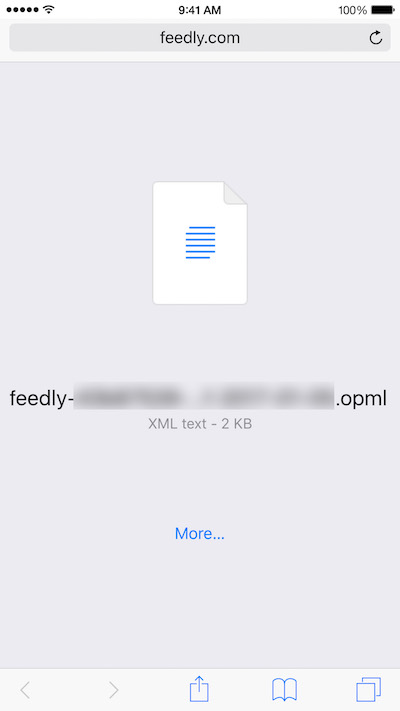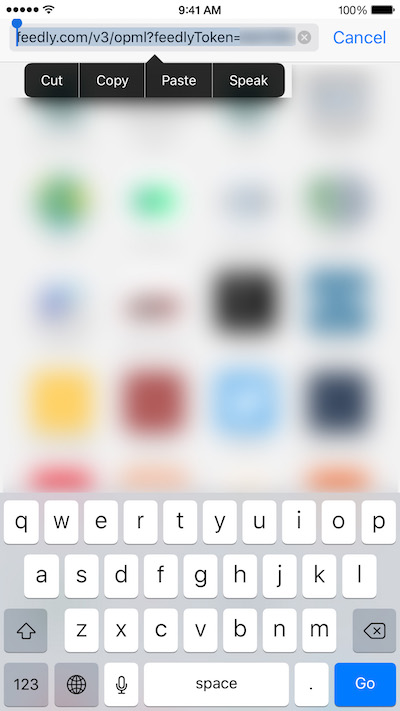 Open the Bookmarks view in Speak News. Tap the + button and Add Manually to create a new bookmark in Speak News.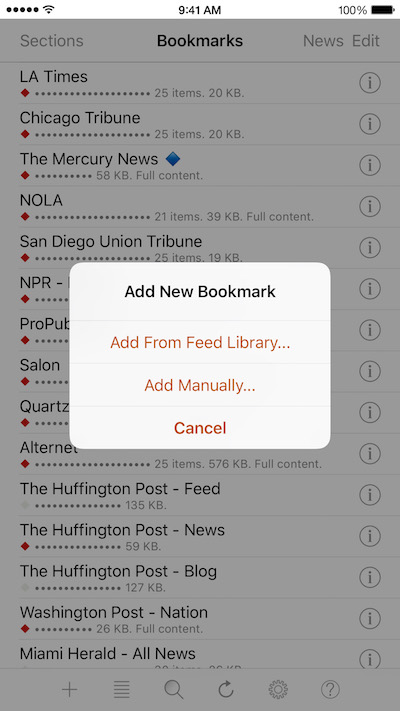 Paste the URL of your OPML file into the URL field.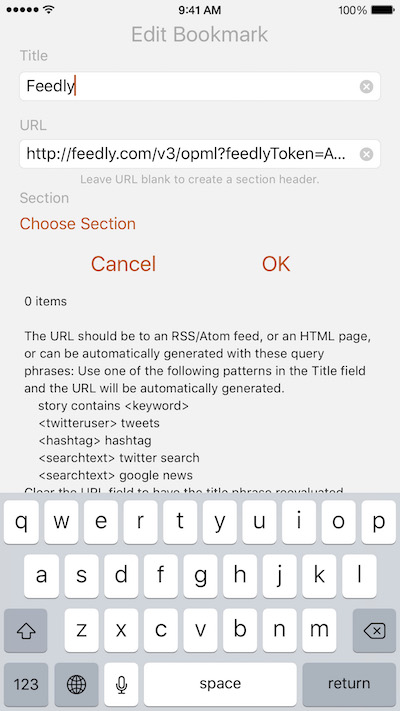 Tap OK to save the new bookmark. The Edit bookmark view closes and the Bookmarks view appears. The OPML file should load automatically, otherwise tap the Feedly OPML bookmark to open it. Tap the circle arrow button at the bottom of the News view, and tap Update This Feed and it will load the OPML file.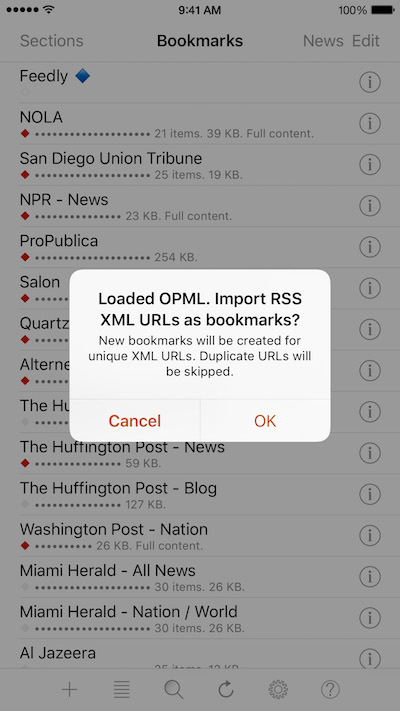 A confirmation alert appears. Tap OK to import the RSS news feed URLs from the Feedly OPML bookmark as new bookmarks in Speak News. New bookmarks will be created for unique XML URLs in the OPML file. Duplicate URLs in the OPML will be skipped.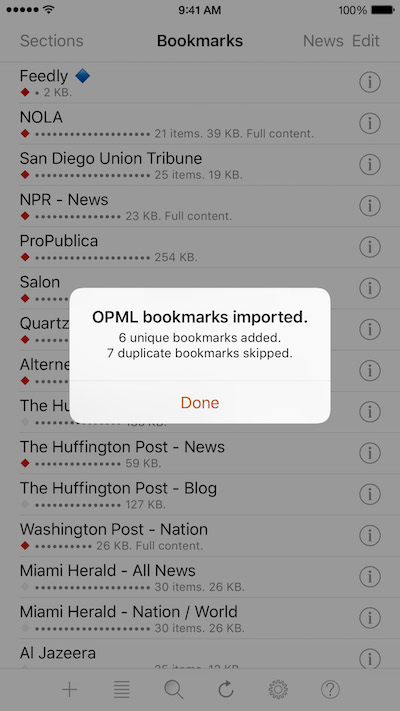 An alert will appear with the results of the import, including how many bookmarks were added or skipped.
The new bookmarks are added to the end of the collection in the Bookmarks view.
To reorder the newly imported bookmarks, tap Edit in the top right and drag bookmarks using the drag control of the right side of the bookmark.
The Feedly RSS feeds can be updated in Speak News. Open the existing Feedly bookmark in Speak News and tapping the Update button at the bottom and Update This Feed.
---
Support
For questions, bug reports, and feature requests for Speak News, please contact Imaja via e-mail. We will try to respond within a day, usually much sooner.
> E-mail Support:
---
introduction and more information on Speak News >
More apps from imaja.com