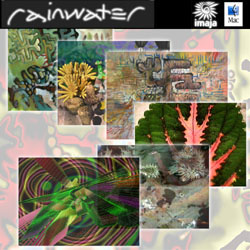 Rainwater™ showcases exquisite images dissolving together with a soundtrack of intriguing mystery and surprise, with hundreds of images in countless combinations.
Jalbert, author of Bliss Paint, artist and musician, presents this collection of his latest work, including computer- generated images, conventional paintings in acrylic, watercolor, gouache and ink, and photographs of nature. The electronic music soundtrack is inspired ambient music, making this a special ever-changing journey. Each session with rainwater is a completely new series of images, randomly selected from hundreds included on the CD-ROM. Using custom software to control the dissolves, new images are created in the process.
Rainwater is designed for Mac OS 9 or Mac OS X with Classic. See requirements for more details.
Order online now!
Rainwater (Mac OS CD-ROM): $39.95
To pay with a check or money order, mail your order to Imaja, 1244 Hearst Ave. #7, Berkeley, CA 94702 USA. To order by mail, click here for the Imaja Media Order Form.
Requirements
Power Macintosh/Mac OS computer.
Classic Mac OS 9 on Mac OS X PowerPC machines,
Mac OS 9, Mac OS 8, System 7.
20MB RAM.
CD-ROM drive.
Color monitor.
Sound output.
The Rainwater software creates subtle dissolves in true color. A monitor setting of Millions or Thousands of Colors is recommended.